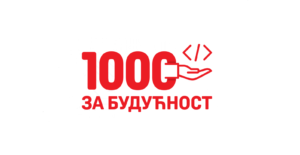 "Admiral" whole heartedly supported "1000 for future" project, started by the Ministry of Scientific and Technological Development, Higher Education and Information Society of Republic of Srpska in order to facilitate remote learning for students all over the Entity.
The project is a part of scientific and technological efforts to overcome the crisis caused by COVID-19 virus, including acquisition of 1000 Raspberry Pi 4 devices for elementary school students from 20 extremely underdeveloped local communities in Republic of Srpska. The donations from socially responsible campaigns have provided just as many fourth-generation mini-computers, so that they can participate online teaching process and at the same time improve their programming skills.
Admiral, aware of the importance of such a project and in order to provide internet connection for the mini-computers, donated 212 3G XS Box GO+ routers, worth around 20 000 KM.
"We believe that the greater value of this donation, is in raising awareness that even after this crisis we have to leave this world in strong hands of our youth. And we, as well as the humanity on a global level, need young people to be the engine of social development, that relies heavily on advanced technologies and their availability during education and training", said Nenad Đedović, director of "RSA Gaming", Republic of Srpska representative for the global brand "admiral", reminding that a large part of the company's business is based on the development of modern technologies, and that, this is among other things, reason to support this kind of project.
I this way, he digital transformation of society will include elementary school children from low income families, showing that #1000zaBudućnost is not just another hashtag, but our mission to which we are dedicated as socially responsible individuals and collective.